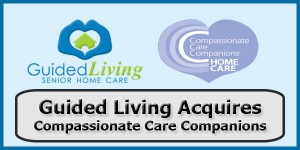 Guided Living Announces Home Care Acquisition
Compassionate Care Companions (CCC) was founded in 2006 by Susan English through a professional mission to deliver excellent, compassionate care with a personal touch. For nine years she carried out that mission developing a dependable and experienced caregiver team with an excellent reputation for going above and beyond in servicing her client base.
I am excited to announce that today Guided Living Senior Home Care has officially acquired Compassionate Care Companions and is completing a meticulous transition of caregivers and clients. The "Guided Living Way" parallels the founding mission of CCC's with quality of care and service excellence as core values. The CCC caregivers have been a welcomed addition bringing their experience and talents to the Guided Living Team.
To anyone familiar with Compassionate Care Companions, you can expect your referrals to retain that personal touch along with service excellence under the Guided Living Senior Home Care banner.
Patrick Flaherty
Founder & President
Guided Living Senior Home Care