Patrick Flaherty – President & Founder
My name is Patrick Flaherty and I founded Guided Living after seeing the difficulties of finding trustworthy and reliable in-home care. I wanted to create a company where the quality of care and communication with clients and their families were the unwavering top priorities.
We have incorporated great technology into the company like our online family portal that gives families a real time look into our care. One of our goals is to build trust and show accountability to clients and their families through transparency.
Our team has set the highest standards for care and each client has a dedicated Registered Nurse that will supervise caregivers, perform regular in home check-ins, and most importantly be available for clients and families to help navigate through tough questions and uncertainties during difficult times.
The Guided Living Team treats our clients and their families as our own.
We're in this business because of our passion for care and it's our #1 priority.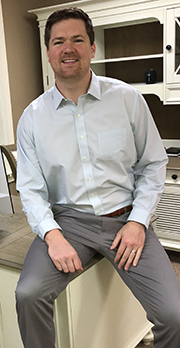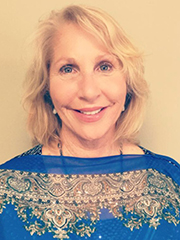 Kathleen Armany RN, BC-HN
RN Client Services Manager
Kathy comes to us with decades of homecare, hospice and managerial experience coupled with a dedication to providing psycho-social support to both caregivers and those dealing with both acute and chronic illness. Kathy is a licensed Registered Nurse and a Board Certified Holistic Nurse honoring the value of caring for the entirety of a person encompassing mind/body/spirit. Her experience is uniquely blended with skills developed towards continuous quality improvement, team building and management of staff who provide care.
Through a personal experience in her twenties in which a family member required extensive clinical care at home, her passion for caring and supporting clients and their families in the community was crystallized. Personally feeling the impact of how supportive care can influence a difficult situation has stayed with her throughout her career.
This passion, perseverance and positive energy will continue to guide our team in provision of care that truly matters and makes a difference for those who choose Guided Living.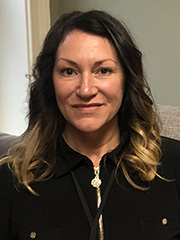 Erin Mcgrath RN, BSN
Clinical Care Services & Community Liaison
Erin has been a member of the Guided Living team since 2014 and brings over 20 years of healthcare and home care experience. Through her career, she has specialized in caring for hospice, palliative, Alzheimer's and dementia populations. Erin's bachelor's degrees in both nursing and psychology are invaluable educational tools when supporting clients and their loved ones during a delicate and sensitive stage in their lives.
Erin is our lead assessment nurse and often the first person our clients and their loved ones meet in their home. She is an expert at formulating individualized care plans assuring the highest care and satisfaction for our clients. Erin also provides oversight of clients and caregiver staff through ongoing supervisory visits. Through these visits, her assessment skills and clinical knowledge of the disease process have been vital to prevent unplanned events and rehospitalizations.
In addition to her clinical nursing roles, Erin has the position of Community Liaison on the Guided Living team. As an experienced nurse, Erin builds relationships with community medical providers who understand the importance and value of registered nurse oversight in senior home care.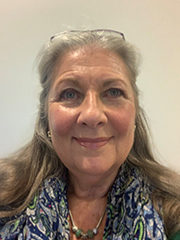 Linda D Wise RN, BS, C
Clinical Care Services & Community Liaison
As a Registered Nurse, Board Certified in Geriatric Care, Linda brings more than 40 years of nursing experience including decades working with the senior population. Her degree in psychology has been instrumental in delivering compassionate, individualized care in various environments including acute care, critical care, home care, assisted living and as a faculty member for 14 years teaching at a local nursing program.
Linda served as a Captain in the Army Nurse Corp where focus, diligence and flexibility in the process of exploring and evaluating care options was instilled. Her nursing experiences during her service in Vietnam had a profound influence on her solutions driven approach to providing care and her leadership.
Linda has spoken at Harvard Medical School Center on issues related to palliative care and is passionate about ensuring those at end-of-life receive the most respectful and dignified care. Her experience, knowledge, calm demeanor and patience are a benefit to all of our clients, their families and care team.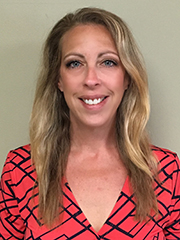 Mia Marsocci
Office Coordinator
Mia comes to the Guided Living team with over 20 years of healthcare experience. She graduated from Rochester Business Institute in 1998 with a degree in medical office management. Her first job was working as a transcriptionist and through the years has worked in Physical Therapy, Emergency Department, Oncology and Primary Care.
Mia's ability to empathize with clients and families was quickly apparent and she moved into the role of Guided Living's primary intake and first point of contact for clients, families and prospective clients. Additionally, Mia is the first screener for all incoming caregiver applicants and is an important part of our scheduling team.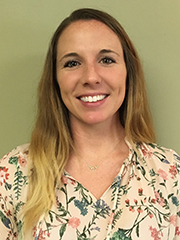 Amanda Strickland
Scheduling Coordinator
Amanda earned her Bachelor of Science degree in Health Studies and brings a passion for community healthcare. Her experience as a Certified Nursing Assistant from a local nursing home has deepened her appreciation for how quality care can dramatically improve one's life. This clinical experience has allowed for Amanda to build strong relationships and connections with the caregivers and nurses of Guided Living as well as provide empathetic support for clients and their families.
Earlier accomplishments in academics and work experience required clear communication, a high attention to detail and organizational skills that carried forward in her work at Guided Living. Amanda is an important part of the scheduling and intake teams for both clients and staff onboarding.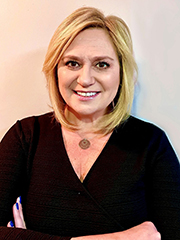 Wendy Fabrizio
Office Coordinator
Wendy has worked in various office coordinator positions for 28 years working in a variety of business settings. Her experience includes time as a legal secretary, an administrator for a Blockbuster Franchise, a Security Receptionist for Plymouth Public Schools and a variety of positions at Camp Bournedale Function Facility.
Wendy graduated from Cape Cod Community College with a degree in Legal Office Administration and now holds the position of office coordinator at Guided Living. Having worked for many years in customer and client facing roles, Wendy has developed excellent listening skills and has deep empathy for the challenging circumstances many of our clients and their families are facing when they reach out to our company. Her calming and reassuring nature has been a benefit to our staff, clients and families that she interacts with on a daily basis.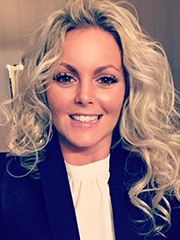 Ashley St. Germain
Community Liaison
Ashley comes to us with both experience and passion in providing quality home care options to the senior community. She earned her Bachelor of Arts degree in Marketing from American International College and has used her marketing skills to creatively inform senior community members and their families of where and how they can provide quality care to their loved ones while allowing them to stay in the comfort of their own homes.
Ashley has held in-services for families of seniors such as phone scamming awareness, proper nutrition, and preventing readmissions in high risk seniors. She is motivated to provide support to the senior community as she believes seniors have paved the way for generations after them and that it is most important that they are able to keep their independence for as long as possible. She has a strong work ethic and drive because she wants to show her two sons not only the value of hard work, but how important seniors are to our community.
Ashley's outgoing personality, senior home care knowledge, and ability to promptly respond to questions regarding senior living will bring another layer of support to our team at Guided Living. This support will change the way families are able to care for their elders and will help in partnering with families to provide them the peace of mind that their loved ones are in trusted and caring hands.
Guided Living employs an RN staff located in Plymouth, the South Shore area and on Cape Cod. These Registered Nurses conduct new client assessments, perform supervisory visits for caregivers and check on clients ongoing to ensure the plan of care is accurate making updates as needed.
Caregiver Staff (CNA/CHHA)
Guided Living's experienced and select caregiver staff are located throughout our greater Plymouth, South Shore, and Cape Cod service area. All caregivers are employees of the company, bonded, and insured. We are extremely proud of our caregiving Team and the incredible work that they do every day.