Serving the South Shore, Cape, & South Coast
Primary office in Plymouth, MA
Private homecare is complex. Alzheimer's & other dementia, care at home after rehab, chronic illness management, & 100 other factors make every case unique. This level of need cannot be met with "cookie cutter home care."
Guided Living Senior Home Care employs only experienced CNA/CHHA level caregivers and private nursing services are performed only by licensed RN and LPN professionals. Peace of mind for families is paramount, which is why we run a complete background check every month on all staff ongoing.
Latest Video:
Thank you Diana!
Proud Member of the
Home Care Alliance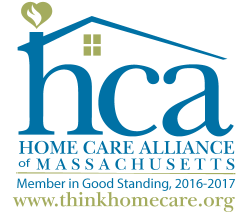 Medication Support

Bathing & Grooming

Mobility Assistance

Transferring & Positioning

Continence Care
Groceries/Errands

Transportation

Light Housekeeping

Meal Preparation

Laundry
Provide a higher level of care services such as medication administration, dressing changes or wound care

Help prevent ER visits & other unplanned events

Communication among physicians & other providers
Professional guidance through difficult care situations

Evaluating costs of services & insurances

Refer to quality local providers

Recommend additional community resources
Chronic Illness Management
Unmanaged chronic illnesses including Alzheimer's Disease lead to more intense symptoms which can progress to loss of physical & cognitive function. This vicious cycle causes multiple problems such as fatigue, depression, pain, stress, fall risk issues, & medication mis-management.
Our approach promotes & supports positive aging by monitoring good nutrition practices, safety at home, subtle changes & responding to those changes earlier in the disease cycle.
Family Testimonials – Complex Care Situations
Recently my family required support after the sudden illness and subsequent death of my father. The Guided Living team responded immediately, supporting my mother, an Alzheimer's patient, during a very difficult time of transition. Every caregiver assigned to care for her was warm and attentive. The Guided Living office was professional and reliable with their scheduling, troubleshooting, and communication. Any question I had was answered immediately, and I was given full access to the Guided Living online Dashboard which allowed me to leave messages for the companion on duty, view the week's schedule of caretakers, and see the tasks completed by each. My mother felt safe and comfortable. I will always be grateful that Guided Living was there for my family, and I highly recommend their care to other families in need.
I am so pleased at how everything has worked out these last few months and now with a trip to the hospital and home again for my aunt and we want to pause for a moment to thank you and your team very much!

My sister and I were just recently saying to one another how fortunate we and my aunt are to have you and your constant care and effort. It is so reassuring!

We know this latest event must have been very scary for all involved – my aunt the most – and it is so great we can all celebrate a return home for her today. Please thank all of the caregivers and nurses!!!!

Thank you Patrick!
Professional, knowledgeable, responsive and caring. Hands down over and above any and all expectations. Available at all times for all questions! I have been so impressed and grateful for the help and guidance through some very difficult times!!
I am writing to thank you for the wonderful service you have provided for my parents. We greatly appreciate that you were able to provide customized care and rearrange schedules to meet my parents changing needs. We met you in a time of need for my family and you have offered support in every regard and allowed us to feel comfortable and confident that my folks needs were being met. You have gone above and beyond and we are deeply grateful.