Our Comprehensive Policies & Procedures for Coronavirus (COVID-19)
Guided Living has taken a comprehensive approach to mitigate the many concerns surrounding Coronavirus (COVID-19) in order to protect our clients in their homes.
In addition to our existing policies and best practices, our registered nurse team has created policies and procedures specifically for COVID-19. As an organization, we take seriously our obligation to our clients, caregivers and office staff to protect everyone's health and well-being. We have implemented additional policies for screenings and checks, office protocols and oversight visits that have been implemented as a part of our process.
These policies are being reviewed daily based on incoming information and were developed with input from the Centers for Disease Control, Massachusetts Department of Public Health and communication with industry groups to document the most current best practices and recommendations.
As always, our team is available 24/7 to speak with you about any questions or concerns. If you would like to specifically speak with our RN Client Services Manager who is managing our response to COVID-19 on a daily basis, please call anytime 508-927-1213.
Procedures, Policies & Precautions Taken by Guided Living
Guided Living is following all guidance from the CDC, state of Massachusetts and other credible sources. Our nursing team has participated in dozens of conference calls and webinars to keep up with the guidance that changes at a near daily pace.
Personal Protective Equipment (PPE) is essential to prevent the spread of the COVID-19 virus. We are prepared with a supply of PPE and all of our caregivers and nurses will be wearing surgical level masks on all shifts indefinitely.
Every single day prior to each shift, all caregivers are screened with a series of COVID questions prior to being allowed to clock-in with any client.
We have screened all caregivers that work at other jobs in facilities. Any staff that work with patients in a facility that are COVID-19 positive have been taken off of their schedules with Guided Living during this time.
All of our staff are Certified Home Health Aides (CHHA) and/or Certified Nursing Assistants (CNA) with experience. The entire team thoroughly understands the best practices for hand washing and other standard precautions to prevent the spread of illness. During this time our nursing team is reinforcing those best practices every week with the entire team.
Our office is communicating daily with staff, clients and their families to check for any symptoms. We have a series of online dashboards the team uses to organize all of these daily communications and follow ups (also see section below).
We are encouraging family members to limit their visits during this time and instead plan to connect virtually through the many options available.
The entire Guided Living team is in constant communication and remains available 24/7 for our clients, their families and our staff.
How We Are Managing Information
At Guided Living we have built a series of internal online dashboards to assist our office team during normal times with communications for scheduling, general follow ups, client inquiries, etc.
During this time, we have built new dashboards to organize all of our ongoing daily communications and follow ups with staff and clients including symptom checks, travel checks and more based on official guidance. Below is a screenshot of one of our dashboards (blurry on purpose to protect private information) that enables our entire team to track this important information.
As a company, these procedures and tools keep our team thoroughly organized to protect our clients, their families and our staff's health and safety.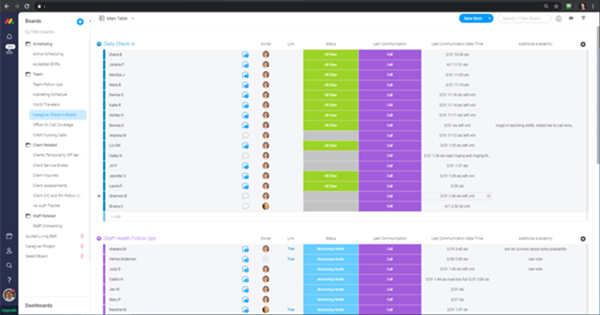 Now back to our regular website…
Serving South Shore, Cape, & South Coast
Offices in Plymouth & Falmouth, MA
Private homecare can be complex. Alzheimer's & other dementia, care at home after rehab, chronic illness management, & many other factors make every client unique. This level of need cannot be met with "cookie cutter home care."
Guided Living Senior Home Care employs only experienced CNA/CHHA level caregivers and licensed RN and LPN professionals. Peace of mind for families is paramount, which is why we run a CORI report, drug screen, Inspector General check, references check & a complete background check on all staff.
Thank you video for
Anaida, William & Lyndia!
Interested in working for Guided Living?
Are you a certified caregiver?
Learn more and apply at the link below:
Employment Page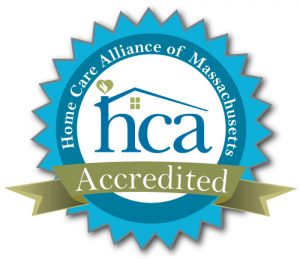 What makes the quality of our care different?
A chat with Mia and Kathy.
Caregiver Testimonial – Thank you Colleen and Juliana!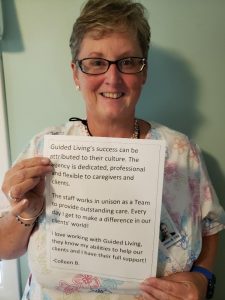 Guided Living's success can be attributed to their culture. The agency is dedicated, professional and flexible to caregivers and clients.
The staff works in unison as a Team to provide outstanding care. Every day I get to make a difference in our clients' world!
I love working with Guided Living, they know my abilities to help our clients and I have their full support!
-Colleen B.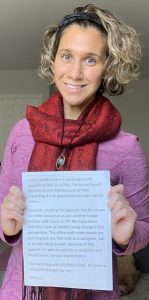 Home Health Care is a challenging and rewarding field. As a CNA, I've found myself devoted to this field because of how rewarding it is to give compassionate care to others.
However, working for agencies I've found you are often looked at as just another badge number with hours to fill. My experience with the Team at Guided Living changed that perspective. The office staff understands me and respects me. Not only as a caregiver, but as an individual as well. Because of this support I'm able to excel as a caregiver and exceed even my own expectations.
I love working with Guided Living!! It's been a real game changer for me.
-Juliana F.
Client & Family Survey Results
Out of 5 quality categories, amount of responses 'Met' or 'Exceeded' expectations.
Would you refer Guided Living to a friend? (avg. response)
Client & Family Survey Feedback
(more at bottom of page)
It is hard to describe the panic triggered after a fall resulted in a fractured shoulder and humerus. A relatively healthy senior, suddenly I was unable to perform many activities of daily living and my independence was profoundly threatened. For help, I called Guided Living Senior Home Care and arranged daily assistance. Not only did they help with a variety of tasks, but their presence provided me with the opportunity to rest, an essential element to recovery. After several weeks, I gradually progressed. Today I can live independently, as I continue therapy to restore mobility.

My progress was enhanced by the gentle and kind assistance of your CNAs. They were prompt and competent, always professional and respectful as we worked through the stresses of recovery. I doubt that I could have remained at home alone without them. Please extend my gratitude to your staff who served me.

I am happy to share my experience with others and will continue to recommend your organization to seniors who find themselves in need of help at home. Good luck to you and the valuable services you provide.
We really should have coordinated with you all on this years ago! Awesome getting this all done so quickly for our family, please pass on our sincere thanks for all the hustle to the extended team there.
Medication Support

Bathing & Grooming

Mobility Assistance

Transferring & Positioning

Continence Care
Groceries/Errands

Transportation

Light Housekeeping

Meal Preparation

Laundry
Provide a higher level of care services such as medication administration, dressing changes or wound care

Help prevent ER visits & other unplanned events

Communication among physicians & other providers
Chronic Illness Management
Unmanaged chronic illnesses including Alzheimer's Disease lead to more intense symptoms which can progress to loss of physical & cognitive function. This vicious cycle causes multiple problems such as fatigue, depression, pain, stress, fall risk issues, & medication mis-management.
Our approach promotes & supports positive aging by monitoring good nutrition practices, safety at home, subtle changes & responding to those changes earlier in the disease cycle.
Family Testimonials – Complex Care Situations
Guided Living has been a life saver for my 91 year old father and our entire family following his brief stay at a nursing home after having a heart attack. We lost our mother the year before and myself and my siblings (some of whom live in other states) were worried about his continued recovery after he returned home. He would still need 24/7 care at home for a short while and we only had four days' notice when the nursing home told us he was going to be released. I called Guided Living on Tuesday morning, met with them on Friday and a caregiver was at his house on Saturday when he came home! From my very first phone call to Guided Living we have experienced only warm and caring personal attention to our every need. All the staff are calm and pleasant whenever we talk and are always there for us no matter the time of day or how big or small our problem. It is like calling on a friend or loved one for help. We had a family meeting after 24/7 care was no longer necessary and decided to stay with Guided Living five days a week with a few hours of help in the morning and in the evening. The two CNA's who help our father every week have become like family to us. We admire and trust them so much. They are very professional but so personal in their caregiving. We have such peace of mind knowing he is not alone all day and he likes knowing he has time to himself every afternoon. Two of us live close to my father and we treasure the time we spend helping him on the weekends. Our father always said as he got older that he never wanted to intrude on his children's lives. As his children we feel very deeply that we want to be there for him in every way possible in this final chapter of his life. Guided Living has allowed all of us to be happy with the very custom care schedule they have set up. We are very grateful and wish the same for every family facing a situation similar to ours.
Recently my family required support after the sudden illness and subsequent death of my father. The Guided Living team responded immediately, supporting my mother, an Alzheimer's patient, during a very difficult time of transition. Every caregiver assigned to care for her was warm and attentive. The Guided Living office was professional and reliable with their scheduling, troubleshooting, and communication. Any question I had was answered immediately, and I was given full access to the Guided Living online Dashboard which allowed me to leave messages for the companion on duty, view the week's schedule of caretakers, and see the tasks completed by each. My mother felt safe and comfortable. I will always be grateful that Guided Living was there for my family, and I highly recommend their care to other families in need.
I am so pleased at how everything has worked out these last few months and now with a trip to the hospital and home again for my aunt and we want to pause for a moment to thank you and your team very much!

My sister and I were just recently saying to one another how fortunate we and my aunt are to have you and your constant care and effort. It is so reassuring!

We know this latest event must have been very scary for all involved – my aunt the most – and it is so great we can all celebrate a return home for her today. Please thank all of the caregivers and nurses!!!!

Thank you Patrick!
Professional, knowledgeable, responsive and caring. Hands down over and above any and all expectations. Available at all times for all questions! I have been so impressed and grateful for the help and guidance through some very difficult times!!
I am writing to thank you for the wonderful service you have provided for my parents. We greatly appreciate that you were able to provide customized care and rearrange schedules to meet my parents changing needs. We met you in a time of need for my family and you have offered support in every regard and allowed us to feel comfortable and confident that my folks needs were being met. You have gone above and beyond and we are deeply grateful.
Additional Family Survey Feedback
The initial referral came over a holiday weekend and still they could provide excellent coverage. Staff worked very well with the VNA case manager to alert us to problems. Office staff were friendly and helpful, and very responsive.
All the caregivers assigned to my husband were wonderful. They brought a little sunshine into his last days and I am so grateful Patrick started this business.
Your caregivers are terrific. They are professional, compassionate and genuinely concerned about their clients. Guided Living is a very reliable service that our family appreciates. They communicate well with the family and keep us informed of any situation that requires further or immediate intervention.
If the nurse did not visit my mother while I was on vacation, she would most likely have died-alone and would have been found by a family member. Thanks to the nurse my mother was admitted to the hospital and had a good death-in comfort receiving medical care surrounded by her family. Amazingly dedicated staff. I will be forever grateful.
The care, professionalism and observation skills of the HHAs are excellent. They are very quick to notice changes and problems. They are of great help.
My parents would not have been able to live out their final weeks at home without the services provided.
Great team of people. I have recommended you to a number of my patients, who have all been very pleased with the services.
We are very happy with the nurse assigned. She provides exceptional care. My mother looks forward to her visits. We are also happy with the professionalism and courteousness of all the staff.
We are extremely happy with my husband's caregiver. She is very caring, reliable, and efficient in everything she does.
You have a great team of people working for you. I cannot thank them enough for all their help with my father in law.
Guided Living has given me peace of mind as I live 4 hours away from my parents. Everyone who has taken care of my mom has been wonderful. Thank you Patrick for having such excellent staff.